Welcome to Everything Building Envelope℠!
Everything Building Envelope℠ is a dedicated podcast forum for understanding the building envelope. Our podcast series discusses current trends and issues that contractors, developers, and building owners have to deal with related to pre and post-construction. Our series touches on various topics related to water infiltration, litigation, and construction methods related to the building envelope.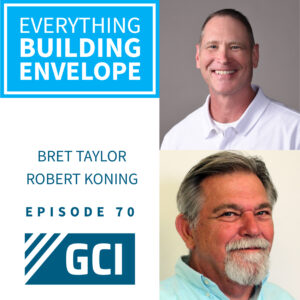 (Released on September 16th)
In this episode, Bret Taylor, Professional Engineer, and Sr. Consultant for GCI Consultants talks Robert Koning Director of Contractors Institute, Stucco Institute, Building Officials Institute, and he's also the developer of the Sealed Cladding System. They'll discuss the state of stucco, the history of the Stucco industry, and the future that lies ahead for stucco.