Welcome to Everything Building Envelope℠!
Everything Building Envelope℠ is a dedicated podcast forum for understanding the building envelope. Our podcast series discusses current trends and issues that contractors, developers and building owners have to deal with related to pre and post construction. Our series touches on various topics related to water infiltration, litigation and construction methods related to the building envelope.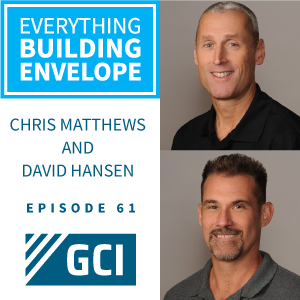 (Released on July 10th)
Today's podcast will focus our conversation with David Hansen on his extensive knowledge of products and wall systems, especially exterior glazing systems and how they are intended to function, how to get them installed correctly, and how to keep them functioning right. David is gonna talk to you about some of the things he's learned in his 30 years in the industry, problems, and recommendations he can offer to you.