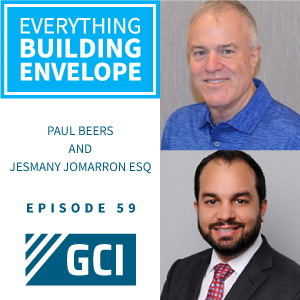 Is Your Building Prepared For Hurricane Season
(Released on June 1)
As hurricane season unfolds, we're preparing for the possibility of tornadoes and thunderstorms that can cause storm damage to commercial properties and homes. Learn more about preparing your building for hurricane season from two industry
About The Everything Building Envelope Podcast: Everything Building Envelope℠ is a dedicated podcast and video forum for understanding the building envelope. Our podcast series discusses current trends and issues that contractors, developers and building owners have to deal with related to pre and post construction. Our series touches on various topics related to water infiltration, litigation and construction methods related to the building envelope.

https://www.everythingbuildingenvelope.com

*** Subscribe to the show and leave us a Review on ITunes!
Paul: Hello, everyone. Welcome to another episode of "Everything Building Envelope" podcast. I'm Paul Beers, the CEO and managing member of GCI Consultants. And I'm going to be the host today. I'm really excited today to have, as my guest Jesmany Jomarron who's a senior partner at the law firm of Farrell, Patel, Jomarron & Lopez with offices in Miami, Tampa, and Puerto Rico. Jesmany, welcome.
Jesmany: Thank you, Paul. Thank you for having me. Appreciate it.
Paul: So, Jesmany, can you please tell the audience a little bit about yourself and your firm, and then we'll jump right into the topic.
Jesmany: Sure. Thanks for having me. My name is Jesmany Jomarron. I'm the managing partner at Farrell, Patel, Jomarron & Lopez. We've been in this business for over 10 years in, exclusively in the insurance industry business handling all kinds of claims, whether it's a residential homeowner claims, commercial claims, community association claims like condos and HOAs. We work with many experts in the field. We have a network of individuals that we can address most of the concerns raised by insurance policyholders. We're also a big player in the BP Oil spill crisis. We handled over 4,000 hotel claims at the time. So, we have a lot of resources in this industry and we're available to help you guys with anything insurance related that you might need.
Paul: Yeah. So, I'm really excited because, you know…so listeners, we're going to tell them a little bit about it, they don't know this yet, but you and I have worked together now on a bunch of hurricane claims in Puerto Rico and in Florida. It's been, you know, a good experience. So, we'd like to share that today with our listeners and hopefully offer them some insight because we've got that…what's that date that's coming up any day now?
Jesmany: The start of the hurricane season.
Paul: Yeah. So, it's another year. Hopefully, nothing happens, but sometimes it does and we wanna be prepared…
Jesmany: Well, we've got enough to deal with right now with this pandemic, but we always got to be prepared just in case.
Paul: Yeah. You know, I mean, it almost stands to reason that, it's a terrible thing to say, but you know, we have a pandemic, so probably we'll get hassled by hurricanes this year to freak everybody out. So, you know, we're talking that we've worked together, we've worked on some of the recent storms and thought maybe we just kind of talk a little bit about that, Irma, Maria, Michael, and then Dorian, which we haven't done much work on yet. But that was the one that really scared everybody last year, a superstorm. And we started on Maria, do you want to maybe share some insights because I know that you've got deep connections with Puerto Rico as far as how that's all going.
Jesmany: Sure. Our main connection with Hurricane Maria are the claims that we're doing in Puerto Rico. There what we did is we mainly focused on how we could help the community the most. And we decided to focus on municipal claims and, you know, the bigger condominium claims and commercial claims in Puerto Rico. And one thing that we ran into there was the fact that they didn't have the insurance laws in place like Florida does to really be able to stand a chance against some of the insurance companies' defenses. For example, they didn't have statutory fees. They didn't have statutory bad faith. They didn't have civil remedy notices.
And they had a very significant problem with the statute of limitations and some of the tactics being employed by the major insurance companies on the island, for example, including according to satisfaction language on the back of these checks so that if you tried to cash a partial payment, you know, it would immediately settle your claim. So, those are some of the things that we dealt with when we first entered the market and what we did is we spent most of 2018 lobbying to change those laws. And we were successful. So, we were able to have basically the verbatim version of the Florida insurance codes' civil remedy notice, and their statutory bad faith and their statutory fees. We were able to translate it to Spanish and get it passed in Puerto Rico, so now Puerto Rico has that for future claims. And we're still working on that. There's significant litigation. Things are moving very slowly, unfortunately, in Puerto Rico but we feel confident that this is going to come to an end.
Paul: So, in my non-lawyer amateur view, when I first went in there, it was kind of like the wild wild West. Nobody really seemed to know what was going on and people were afraid to even put claims in. And it was a big mess. I know that you guys have done a lot of work on that and kudos to you for, you know, taking on a really big challenge and trying to help people out and get everything straightened out.
Jesmany: Well, we always try to do our best as a firm. That is definitely one of the things that we focus on. And then Hurricane Dorian, for example, we weren't too involved as far as claims are concerned, but we tried to do our best to help The Bahamas. And through our firm mainly led by our partner, Ricky Patel, we were able to use our online presence and social media presence to be able to, you know, reach out to our followers and ask them to donate materials and supplies to The Bahamas.
And we got a huge response. We had no idea of the type of response that we were going to receive. We set out to have 500 pounds of merchandise sent over to The Bahamas and what ended up happening is we received, between everyone, once we did the tally, it was 130,000 pounds. It sounds like an exaggerated number, but it's true. And it ended up making the news because we ended up having…so many people were mailing things for our office that we had Amazon trucks, UPS trucks, you know, FedEx trucks, you know, you name it, lined up down the street, down Biscayne Boulevard. The police showed up, code enforcement showed up. The fire department showed up all trying to figure out what the heck was going on in our office. And when they figured out what was happening, they put their stuff down and they started helping us, carrying things. And, you know, we were able to use some of our connections to get the things delivered over there. We got our stuff out there before even some of the biggest contributors like the Red Cross. And a lot of the merchandise that was distributed in The Bahamas at the beginning was as a result of this effort. And we got that stuff out. So that's how we were involved in Dorian, not in the claims process, but at least in helping the community.
Paul: And boy, they really needed it too. I mean, that was just unimaginable, the intensity of that storm and then how long it just sat there pounding on them.
Jesmany: Absolutely. That was something that we were very happy we were able to do.
Paul: Yeah. Great job. And then, you know, the other storms, the Florida storms, Irma, which, you know, basically that was 2017. So, we're getting…you know, we're two and a half…over two and a half years from that now. And that was a really big storm that got a good swath of the main part of the State of Florida, right on up through the middle. You know, it started in Southwest Florida, hit Miami hard and then went right up through the middle of the state. And then Michael in the Panhandle was another one of these really intense storms. I was blown away by how severe the damage was. It was like a 40-mile wide tornado went through there and just crushed everything.
Jesmany: Yeah, absolutely. I mean, Irma was one of the stronger storms we've seen that caused one of the highest amount of property damages, and we're still dealing with, you know, very large amount of claims for Hurricane Irma, whether it be residential, commercial, condominium, community associations, you name it. There's a lot to debate about Irma because although it was a very, very strong storm, the insurance company's position in and a lot of these claims has been that the storm didn't create these damages. This was wear and tear, or these are, you know, preexisting items, or faulty construction, or whatever it is, and they're doing their best to avoid paying on a lot of these. So, unless you meet, you know, very technical requirements like, you know, people in the industry are very familiar with it, but, you know, homeowners and condominium associations are not as familiar. For example, you know, being able to photograph the opening from where the water intruded in your roof is not enough to just say, "Hey, water is intruding." The insurance company is going to insist that you take a picture of the hole and it's become almost like…we almost say jokingly at this point, but that is what it is, you have to have a picture of that hole.
And as far as, you know, for what our work is with the community associations, it gets way more complicated than that. And if they start doing research about, you know, your maintenance and your village and if you've had multiple boards, and then it becomes a situation where if you don't have certain records, you might…you know, you can get accused of spoliating the evidence. And, you know, those become a little bit more complicated unless it's a very clear, open and shut case of damage. For example, window being blown completely through, you know, that's something that insurance will say, "All right, we'll pay for that." You know, but, you know, some of the work that you and I do together, Paul, on being able to explain where a window was not completely blown through, but it's still damaged by the hurricane, usually there's a lot of…that's met with a lot of resistance.
Paul: Yeah. So, you know, it's funny, that's been my experience is that, that the insurance companies that they basically, with windows and doors, if the window's on the ground, then, you know, sometimes they say put it back in, which is a little really extreme, but normally they'll pay for that. And broken glass is another thing, but they seem to limit what they're willing to pay for to those two events when, and I'm not an insurance expert…policy expert, but the policies, you know, basically said they'll pay for damage. So, they're defining damage in a very extreme way, where a window or door that may still be in the opening and say it's bent or twisted or, you know, not…it has lost some of its integrity or leaking water, they almost never agree to that.
Jesmany: Yeah. That's definitely our experience. And that's why you and I got so much work together, getting those claims together and backing it up by the science.
Paul: Yeah. I think we both have found is that, you know, as time has gone on, people have come to realize that their windows were compromised by the storm, even if, again, if it's not broken or blown out of the opening, they're having issues with more noise coming through them. They're having water intrusion occurring in normal weather patterns as opposed to, you know, just during the storm and things like that. So, you know, sometimes it's not really readily apparent right after the storm, everything seems intact, but there's underlying and sometimes hidden damage that's coming up later.
Jesmany: Definitely. Don't worry. We were talking about preparing for this hurricane season, but one thing I think is important to mention specifically about Irma is the fact that a lot of these policies are going to be expiring as far as the time frame allowed to file suit or to make a claim. Many of these commercial policies it's three years. So, this September 2020, September 10, 2020, there's going to be a lot of policies out there that if you didn't make your claim, you might be out of luck at this point.
Paul: If someone's got, let's say if someone's got, you know, in the path of Irma and are having these problems, maybe they submitted a claim and it was denied or they paid for the three broken windows and nothing else for the broken glass, or maybe they never even submitted a claim, but they're having all these problems, at this point is there anything that they can do, or what should they do, I guess, may be a better question?
Jesmany: Oh, definitely. For sure, I mean, [inaudible 00:12:46] the lease they may have property damage, they should definitely take a look, especially if you're a condo association or, you know, and you also do share responsibility with the other homeowners or you own a commercial property and, you know, you have responsibility maybe to your business partners to have these properties checked, especially when there's firms out there like ours that is available to go and do this inspection for you for free. And that's something that we do on a regular basis for our commercial clients and our condominium clients, where there's a question we'll go out there and take a look at the whole property. Many times we'll even invite you to pause, you know, and, you know, you'll take a look at the building envelope and a lot of times we'll do a pre-inspection and let you know if we believe you might have a claim from Hurricane Irma or, you know, at least give you a health check on your property, especially going into hurricane season, which is, you know, what we're here to talk about today, right?
So, what can we do to prepare for hurricane season? Definitely have an inspection by somebody, you know, like us, that's qualified to do it and willing to do it for you so that you can have pictures. You can have documented proof of the condition of the property before you go into the storm season. So, in the event you do have damages, it's going to be really easy to prove to the insurance company, during the claims and adjusting process that these damages didn't exist before the storm and that now they exist and here's the before and after pictures taken by, you know, other licensed public adjusters and experts like yourself and engineers, depending on what's necessary. Many times we go ahead and we hire the right expert to go out there and take a look at these items. And for those insureds who believe they might have Irma damages, this is your chance. You've got very little…limited time from now to September. If you're one of those policyholders where the policy says three years versus the standard Florida law, which is five years on breach of a written contract, you know, some of these policies are going to reduce that time to three years, so, this is really kind of like your chance to go in there and double-check, you know.
And this is important because the insurance company's definitely going to take that position… Let's say, now you do have another claim or you have a new loss. If there's aspects of your building and your property that were actually damaged before by Hurricane Irma, they might take the position that, "Well, we'll pay you for the new damages, but the old stuff you should've made a claim under Irma, under whatever policy you had at the time but now you can't do it anymore."
Paul: That's a really good point. So, you know, we hear that all the time, you know, that they're looking to see if there was a prior event that they could basically say, that's the reason it's damaged, not because of Irma. So, and then I really like the whole thing you were just talking about with getting it looked at beforehand. I've been involved in a lot of claims at this point, you know, from the experts' perspective, and if I have a report or really credible documentation of what the condition was before the storm, it makes it much, much, much, much easier to present, you know, present the condition of the property to be able to show, yes, this was caused by Irma or by, you know, whatever the storm was.
Jesmany: Absolutely. Or at a minimum showing that the property is in great condition. And now when there are damages, the only cost has to be whatever this new storm is or whatever the new cause of loss is.
Paul: Right. You can't do it after the event, right?
Jesmany: Exactly.
Paul: I mean, we try to piece things together, forensically, you know, and we can do a nice job with that, but it makes it so much easier to have some sort of history from before the event. So, thinking about the damage, you know, running out of time and whatnot, just so that the listeners really get a good understanding of what's in play here, what are some of the common damage types that your firm is running across? We talked…I know we talked about windows and doors being one thing, but what are some of the other things that they should really be paying attention to at this point for issues that have arisen because of a prior storm?
Jesmany: Well, the issues from a prior storm, I mean…and it could be not even limited to a prior storm. Like we have a condo claim now where it's a prior construction defect case, you know, and the insurance companies, that's one of the biggest things they're looking for, I feel, when you make your claim, they're trying to make sure that the cause of loss that you're suggesting it is, and you're claiming it is, is actually what it was. And that's where, like in a big combo claim, they're going to ask you, "Well, we want to see all your maintenance records. We want to see what's been going on with the windows. How often have you been fixing them? Have you had any other reports about these windows being damaged? Or the roof, what's been the condition of the roof? How old is it? And have you had other leaks? You know, have you had other unit owners complaining? Have you been planning on replacing it anyways?"
These are items that they're going to be looking for and they're going to be trying definitely to shift responsibility in the direction where it may be a policy exclusion or some kind of a limitation would apply so that the…you know, it could be avoided, you know, to be paid based on the policy. And one of the things that you could do to avoid that is definitely knowledge is power. And now you know about it, you know, this is where they're going to be coming from, so, definitely a health check before any storm is very important. It's something that could be done on a yearly basis. And I know both of our firms are actually available for things like that. And definitely a free service that everybody should take advantage of this, listening to this. And then keeping good records, you know, because there will be a record request at some point and you want to have a clear chronology of what's been going on with your property.
If you're a residential homeowner, something I always recommend is, you know, do an inventory of your personal property, take a video with your phone. Now everybody has a cell phone, HD quality camera, right? So, you can take a video of your whole house of what your inventory is before the storm comes. You know, store important documents in a waterproof place. You know, this applies to commercial claimants and condo claimants as well, who have all these records. And, you know, in the event of a storm, you don't know what's going to happen and you don't know if some of these things can be lost so, you know, digital copies also are very important too. Now some of the things that we're running into for example will be…
And like I said, like, you know, we'll have a roof claim on a residential property. The insurance company will say, "Well, that's wind-driven rain. You know, we don't see what's called direct physical loss, right? We don't see that a branch came in and, you know, the wind blew the branch and hit the top of your property of your home and made a hole in the roof that caused the water." That's like a very clear case from an insurance company's point of view of a claim that they would pay because it's showing direct physical loss. But if you're in the middle of a storm and you've never had leaks in your home, and now you're having leaks from different places in your roof and your ceiling, you're not exactly sure where it's coming from, the insurance company will say, "Well, that's just, you know, wind-driven rain. That's just, you know, you have an old roof, so we're not going to pay for that unless, you know, you could show how exactly the storm caused these damages."
And that's where, you know, we'll get experts to do [inaudible 00:20:02] tasks, we'll do all kinds of stuff and like you said, kind of do a forensic analysis of the claim from that point of view. That's one thing we definitely run into on a very, very regular basis. Another thing we're running into is a lot of homeowners are buying policies that have water damage exclusions or very significant limitations. So, like only $10,000 because these policies are, I guess, less expensive and they're more widely available on the market. And they're just becoming more and more popular, which makes it difficult to make, you know, water claims on residential properties when you have that.
Paul: Yeah. You mentioned old roofs and, you know, and I guess the same thing would apply to older windows and doors. Would that preclude somebody filing a claim or from having damage if they have an old roof or old windows and doors?
Jesmany: No, no, not at all. I mean, there's definitely policy exclusions that talk about wear and tear, talk about, you know, faulty workmanship or defects that are not going to be covered. And with the insurance companies always going to be pointing out, and what we have insurance professionals do, is we're always looking for the direct physical loss. But I always like to say the insurance company insured it in that condition. It's an old roof. They give you a brand new policy every year, it gets renewed. And they're saying, we're insuring this old roof against direct physical loss, so just because you have an old roof doesn't mean it's automatically excluded. You just got to have a good insurance professional, be able to explain to the insurance company how your old roof suffered new damages as a result of this cause of loss as to a storm. And then you're…you know we get old roofs paid all the time.
And then, you know, you have a further analysis as to what kind of a policy that you have, you know, replacement cost policy versus an actual cash value policy. And so the difference is if it costs, you know, let's say $30,000 to replace your roof, but you have an actual cash value policy, they're going to say, "Well, your roof is a little old. We're going to depreciate it by X percentage and pay you what's called the actual cash value." If you have a replacement cost policy and you go ahead and you do replace the roof and your invoices are higher than yes, [inaudible 00:22:13] paid by the insurance company then you are entitled to make a supplemental payment and get that depreciation that was withheld paid to you, or even supplement the claim to be higher because you went ahead and you replaced the entirety of the roof and it was higher than whatever the insurance company estimated.
So, that's definitely for purposes of residential. For condo claims it's very similar. You know, it works similar in that sense to a residential claim where just because you have an old roof doesn't mean that it's not going to get paid. We get them paid all the time. You just got to, you know, customize a strategy for every single claim and make sure that, you know, you provide the insurance company with the information that they need so that they can pay it pursuant to your policy.
Paul: Because the insurance company does have an obligation or opportunity, I don't know what the word is, to actually confirm the condition of what they're issuing the insurance policy for. In other words, if it's an old roof, they should know that and if they say they want to exclude it from the policy, then they've kind of got their eyes wide open going into the field, don't they?
Jesmany: Absolutely. And especially for the bigger commercial policies or the condo policies, most of these insurance companies will go out there and do an inspection themselves. So, it makes it even more difficult for them to take the position that they weren't aware of something with your roof, you know? But definitely the key is, you know, direct physical loss is always going to be a little bit more difficult. And you and I run into this situation all the time when the insurance company doesn't see the window on the ground, they're going to say, "Well, we don't really know." You know, I read an opinion yesterday that was saying that, you know, everybody first stands on the top of a pin, you know, because, you know, you're trying to like reread the policy exclusions in a way to avoid coverage as possible. But that's why, you know, people like us are in business because we need to now get in there and at an expert level, at a scientific, technical level, be able to explain how these things are happening and how they're real. Even if you can't exactly see them, you could still through science prove for example, that these windows and these doors have been compromised by these very, very strong winds, you know, and, you know, putting… As an insurance lawyer, you know, it's really important for us to have a big network of experts and qualified individuals that are going to be available to give us these opinions so that we can prove these cases for our clients.
So, in a window and door situation and building envelope situation, you know, you're definitely one of the guys out there that's going to help us, you know, put this together. You know, we might need, after that an engineer, you know, to put together a roof claim, or we just recently handled an elevator claim for a condominium association where the insurance company took the position that it can be repaired even though it was flooded completely in water. So, we had to hire an elevator expert to give us the opinion that no one wants these electrical components when the elevator has been submerged in water. Even though the elevator might be working right now because it dried out, it's definitely decreased the life expectancy of those electrical components significantly to the point that, you know, the extra recommended, you know, replacement of all of those components. And with that expert's report, we were able to convince the insurance company to agree with us. So, that's what we do. That's what we all do in this space.
Paul: So, the elevator story's an interesting one because what is the insurance company's…I know policies are different, but just in general, what is the insurance company's obligation? Is it to get it working again? Does that meet the requirement of what they're supposed to do or do they have to have it in a certain condition to basically meet the requirements of…or the obligations of the insurance policy?
Jesmany: Well, I mean, it largely depends on the type of policy you have. And especially when we're talking about elevators, it means we're going to be in a commercial policy or a condo policy. Commercial policies are going to be 100% custom. I mean, they're going to be custom made usually together with the insured and the agent, depending on what kind of coverages you need. And for a condo claim, it makes it a little bit easier because there's actually a Florida statute on point that dictates what needs to be covered by these policies.
So, taking a condo claim, for example, definitely, an elevator would be considered a common element of the condominium association, which has to be on the insurance policy. The statute even states if it's not on the policy…well, as a matter of law, it's going to be on there because Florida law dictates it when it comes to condominium policy, and the condominium policies are replacement cost policy. So, if the elevator is damaged, definitely, if an expert explains that it needs to be replaced, then that's what the, you know, that's what the insurance company needs to pay for, albeit they'll pay you ACV at first, like we discussed earlier, an actual cash value. That means that there'll be a depreciation hold back. And you won't get that depreciation hold back until you show proof of invoices where you actually incurred the cost to go ahead and replace that elevator. But yes, that is exactly what you're going to be entitled to under your policy, you know, at least in a condo claim. And, you know, I would anticipate for most commercial policies, there's going to be the similar situation too, except the difference between maybe you won't get the full replacement cost value.
Paul: Okay. So, like roofs. So, is this similar, let's say roofs, they would have damage to some of the roof tiles, can they just replace the broken tiles or they have an obligation…? I mean, is that considered good enough for the insurance remedy or do they have to sometimes go beyond that?
Jesmany: So, that's an issue that comes up every day, right, the roof, and how much of the roof requires full replacement versus a repair, right? In the residential context, you know, if you have a few broken tiles, the insurance company will normally say, "Well, we'll just pay you to replace the three tiles. Then there's the argument, well, those tiles are no longer available, so we need it to match, right? So, where are we going to find these tiles?" Then you get in… you know, there is a matching statute in Florida, but that only applies to residential claims. So, then you start with that back and forth. Can you find these tiles? Can you not? Are they still approved by the city, by the county to be on roofs in Florida or in your particular part of town? And many times, what kind of the rule of thumb we look for is if more than 25% of a residential roof was compromised, and then at that point is where we start talking about a full roof replacement based on the matching statute.
But when you talk about a commercial claim or a condo claim, it becomes more complicated, right? So in a condo claim, we're talking commercial now so, there isn't a matching statute for this, right, or for anything else, frankly, because this could apply to paint. It could apply to spackle. It could apply to a number of items that could be damaged during a storm. Right? So specifically on the issue of the roof, it's going to be more a situation of is the city or the county or whoever the inspectors that are going to be, you know, supervising this job, are they going to require you to do a full roof replacement? And if we're talking about a condo policy that has a replacement cost policy, no matching statute, you have proof of direct physical loss to a portion of the roof, if the inspector says, no, a repair is fine, I mean, that's what you're going to get. You're going to get a repair. If the inspection requires a full roof replacement, well, then you're going to argue to the insurance company, I'm going to need a full roof replacement at that point.
But then the debate becomes whether or not this is what's called ordinance and law coverage, which typically is further limited, you know, usually about 25% of whatever your full policy limits are. So, then in that case, you're going to actually have to show as a policyholder that you did in fact replace your roof because under ordinance and law per statute is only going to be paid when you show you actually incurred this cost. And that's when you're going to be able to under an ordinance and law portion of the policy, get the full roof replaced in that situation. It's a little bit complicated, but I hope that officially answered…
Paul: No, it's good. You know, it is complicated, I guess that begs the question, why is all this necessary? I mean, why do people need to go through all this? Why don't they just, you know, submit their claims and get them paid?
Jesmany: Well, I mean, that is totally a question I get all the time. Why do we need you? Why do we need a law firm? Why do we need to sue the insurance company? Why do we need all these experts? You know, isn't that what I'm paying for on my policy already? And you are paying for that. The whole point of these insurance policies, when you have a claim, you should be in good hands, right? You should be able to just call your insurance company who already has a contractual fiduciary obligation to adjust your claims. And adjusting means that they're going to come out there, do an inspection and tell you what your damages are.
Many of these policies are all-risk policies, which means everything's covered unless there's a specific exclusion. And then in a situation like that, you can say, "Hey look, my roof is leaking now, everything is covered. So, you insurance company, show me how this is not covered. Why do I got to show you the hole?" I refer to that because that's kind of been the debate, but they're saying, well, it's excluded because it's wear and tear. It must be an old roof that's failing because that's why it's leaking. You see? So, the reason we have to do this is because insurance companies at the same time, I mean, it's not all bad, right? I mean, they're also trying to make sure that they're only paying for legitimate claims, you know, and definitely, you know, the industry needs insurance companies only to be paying for legitimate claims. And then sometimes, you know, these claims, it becomes a matter of debate, you know, whether or not the claim is as a result of direct physical loss.
And it's because what we were discussing earlier, you're going after the fact. So, you have a storm, you have damages, you speak to the client. And 90% of the time I tell the client, "Okay, show me your records of the maintenance of your house." They're looking at me like what? I don't keep records of the maintenance of my house, you know. Well, when was the last time you replaced the roof or do you have a, you know, one of those wind mitigation reports and one of those home inspections when you buy your property. Sometimes we're closing off some of the property purchase that we have that and it does give us a pretty accurate idea of what the condition of the property was before the storm happened. But many times you don't have that. So, you come in there and for example, with the windows and doors, I mean, you know, better than anybody, you know, a lot of times the windows and doors look fine just superficially when you're looking at it, but you know at a scientific level, these windows are not going to be able to withstand hurricane-force winds the next hurricane season. And if these windows and doors don't get replaced or significantly, you know, repaired or reinforced, somehow, they're going to blow in. And then now we have lives at risk, right? It becomes a human safety issue, especially when we're talking about powers.
And that's one of the biggest arguments that we make all the time, is insurance company, you know, you cannot let this risk linger because if you don't do something about these windows and doors, people could get hurt. And that's what they have a policy for, you know, but we're required to put that together because many times the insurance company doesn't hire experts like yourself to go and look at it at a forensic level like that. They just do a visual inspection.
Paul: They do. You know, I guess the bottom line is it's complicated. There's really so many nuances. It's not just trying to read the policy, which has the best [crosstalk 00:33:18.922].
Jesmany: That's complicated as well.
Paul: Yeah, of course. And then it's interpreting it and, you know, and then trying to get treated fairly and, you know, you make a good point. Insurance companies need to, of course be careful that they're being treated fairly as well. So, the whole thing, I think is just complicated.
Jesmany: I did want to add one more thing. I mean, it is complicated, but it's not like policyholders out there don't have some recourse. You know, there are a lot of public insurance adjusters in the State of Florida, there's a lot of insurance lawyers, you know. And for example, at least our firm, I'm speaking for myself and for your firm, I mean, whoever's listening to this, if you want a free health check of your property, I mean, call us. If you want us to review your policy and let you know what coverages you have or what coverages you could add, you know, that are common things we're running into that if you can change this one little thing in your policy, it can make a really big impact for you in the event of a storm, I mean, that's what we're here for. So it is complicated. It is going to be sometimes an uphill battle, especially with the bigger claims to get them paid because you have the burden of demonstrating a lot of things. Okay? But there are insurance professionals out there like yourself, Paul, and like myself that are ready to help you with all of these issues and make sure that you're ready to go in the event we do have a storm and you need to make this claim.
Paul: Yeah, really good information, Jesmany. And hopefully, nobody's going to need it this year, but you should be prepared regardless because the thing about these storms is once you know it's coming, you know, there's things you can do. You can take pictures and make sure you have your insurance policy and all that, but getting an inspection organized, you know, when there's a week or less before the event's going to hit, probably not going to happen.
Jesmany: Absolutely. We can even coordinate it…sometimes with a big storm or if we feel like a particular area of, you know, the state is going to be hit harder than other areas, those are the clients that we usually reach out to first. And we say, "Hey, look, it seems like your area is going to be targeted. You may have a lot of water loss. You know, you want us to go out there and have a team of people drop off air dehumidifiers. And we have a situation where we can, you know, have all of these things are already left in your property, so that if you do have a big water loss, we just go in there and plug it all in. You know, we already left, you know, the stuff to prevent mold, you know, the things to be able to dry out the water, for example."
And that's in addition to having your property inspected, which we recommend, you know, have us go out there every year. We'll take a look at it every year and make sure that you're ready to go and that there's nothing missing on your policy or, you know, you're ready for hurricane season, at least from the perspective of being ready to make a claim, you know. And then from the perspective of just making sure that your unit owners are safe, making sure that your property is safe, there's sometimes things that you can…like, you know, if you have hurricane shutters putting them on or boarding up window. And every building and property is going to be different, but those are things that, you know, we can offer at the time. It's like, okay, you're getting ready. If you think a storm's coming this is what we recommend to minimize the potential damages to your property. And, you know, we'll explain that to you at the time.
Paul: Yeah. Really great information. So, Jesmany, thanks so much for being a guest today on the "Everything Building Envelope" podcast.
Jesmany: Yeah. You're welcome. Thank you very much for having me. I really enjoyed having this conversation with you and being able to help, you know, anybody that's listening out there.
Paul: So, Jesmany, do you want to tell our audience how they can get ahold of you and your firm if they have a need?
Jesmany: Absolutely. Anybody that needs anything insurance-related or wants to talk to our firm about the issues that we discuss here or other custom issues for you, just email us at insurance@justice360.com. My entire insurance team from my firm is going to be able to receive that email and someone is going to respond to you if not myself. And you could also give us a call at 305-300-3000.
Paul: And your website is?
Jesmany: Oh, our website is justice360.com. There you can go and take a look at our website. You can read a little bit more about me and the other attorneys in the office. We have some resources available for you to take a look at for things like hurricane preparedness. And you can see some of our former case settlements, some of our former work, some of our work with charities, how we give back to the community when possible.
Paul: Wow, lots of resources, really great. And I hope people in need can take advantage of that. So, thanks again, Jesmany, really good stuff.
Jesmany: All right. Thank you, Paul.
Paul: Thank you, everybody. If you want more information about my company, GCI Consultants, our website is www.gciconsultants.com. You can also reach us at 877-740-9990 or you can send an email to info@gciconsultants.com. Thank you once again for listening. I look forward to talking with you next time on "Everything Building Envelope" podcast. And this is Paul Beers, and signing off saying so long.