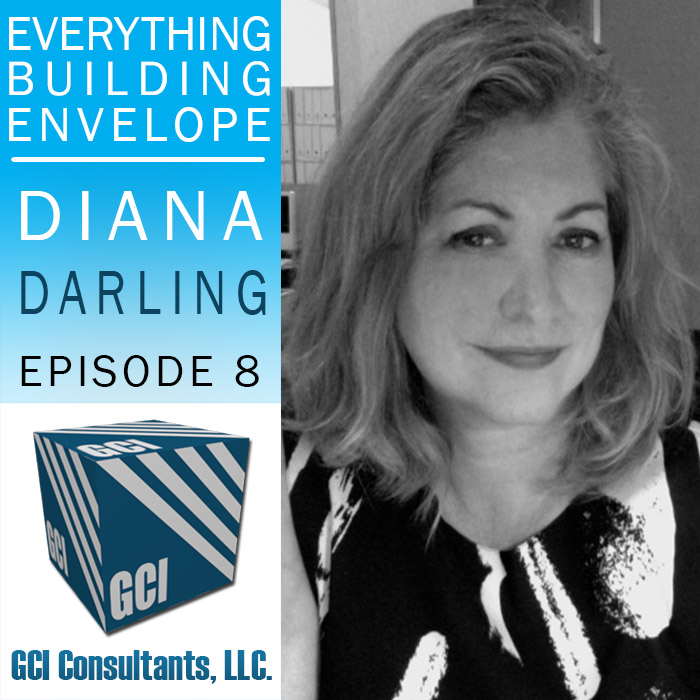 The Architects Newspaper
(Released on September 15)
About The Everything Building Envelope Podcast: Everything Building Envelope℠ is a dedicated podcast and video forum for understanding the building envelope. Our podcast series discusses current trends and issues that contractors, developers and building owners
About The Everything Building Envelope Podcast: Everything Building Envelope℠ is a dedicated podcast and video forum for understanding the building envelope. Our podcast series discusses current trends and issues that contractors, developers and building owners have to deal with related to pre and post construction. Our series touches on various topics related to water infiltration, litigation and construction methods related to the building envelope.

https://www.everythingbuildingenvelope.com

*** Subscribe to the show and leave us a Review on ITunes!
Paul: Welcome, everyone to the "Everything Building Envelope" podcast. Our guest today is Diana Darling. She's the publisher of "The Architect's Newspaper" and also runs a conference called Facades+. So, welcome, Diana.
Diana: Thank you, glad to be here.
Paul: So, could you tell the listeners a little bit about yourself?
Diana: Well, I am a…first of all, I always tell people I'm a transplanted Texan. I've been in New York City for about 30 years, but originally from Grand Prairie, Texas and not sure how I got up here but started in how I got into the architecture world, but I started this magazine with William Menking about 13 years ago. It's based on a format out of the UK called "Building Design" and there wasn't anything like it in the United States that was a weekly newspaper type, news editorial publication. So, we started this regionally in the East first then went to the West Coast, then the Midwest and then the Southwest. We've been doing that for about 13 years. We have a website. We have six different newsletters and we've started this conference series about five years ago on Facades, and that kind of came out of some newsletters that we had created at that time and it's been a fun ride. We have really good numbers, web traffic numbers, about 225,000 uniques a month. We have newsletters that go out to 30,000 people. We have our print, about 50,000, and people really respect our editorial and we're known all across the globe. So, that's been very exciting to create something that is very well respected in the architecture and AEC community. So that's my story.
Paul: So, what kind of topics do you…does the newspaper get into? I mean is it more design, artistic related or is it technical or a combo or what?
Diana: It's kind of a combo. I think we come from a design standpoint on everything that we cover because we do support the design architect. And since we're published mainly, our large portion of our circulation is the top 35 urban areas in the United States whether it's Chicago. L.A., Dallas, Miami, New York City, Boston, D.C. So, we talk a lot about projects. We profile projects. We don't necessarily profile individuals, but more projects. We talk about codes. We do obituaries. We do beautiful obituaries which I think we're fairly well known for. We will get someone that knew that person personally throughout their working life to tell their story about why that person was important. We announce a lot of projects so we're not talking about projects that are complete typically in a publication because of the three-month time frame it takes to do a larger publication, your projects you're looking at might be, you know, completed a year ago. And we're talking about things that are completed very recently or about to break ground. So the tricky part that's, you know, when we started the web wasn't such a big play in having a media company. Now then, you know, that's a big factor. What you put in print, what you put online, how's it going to be relevant, how are you with the rest of your competitors? And then we have a huge social media component to this business, as well. We have about almost 700,000 Facebook followers and about 100…almost 200,000 Twitter followers. So, we also put a lot of information out on those channels. So, we're constantly figuring out what is the best channel to put a particular story in. And we do have journalists on staff so we write and produce all of our editorial.
Paul: So you have…silly question maybe, but do you have different editions in different areas?
Diana: Yes. So say for instance in the East, we will cover news that's in the East. The feature story might be something that goes between all different regions, but as it's been through each region because we have four separate printings for each month. So, maybe the stories will change and the feature will for a project that's particular to that area, but the news is relevant to each area. And we do reviews on art shows and books and those reviews…that review section will be different in each edition, as well. And the advertising is pretty much different in each edition.
Paul: Sounds like a lot of work. Keeping up with everything.
Diana: It's a little exhausting to explain because people do say, "Wow, that's a lot, that's a lot of work. You're putting out a lot of editorial."
Paul: Really interesting. So, I think you said this is like the 12th or 13th year.
Diana: Right.
Paul: So, what's different now than when you began?
Diana: What's different? I mean, in terms of just media and general? I mean, you know, right now I think everybody always says print is dead. I think we go to a lot of different readers. We go to young readers, we go to students. We get told or asked by people that we might be covering, "Can you make sure that this is in print because my mom wants to see it. You know, my mom's not going to see it on the web," and things that are on the web are fleeting. They're up there for a day and then they're gone and you can't really find them so easily on a website. So, people do wanna still have their projects in print and architecture's a visual profession so people want to see images and pictures of things.
We do do special sections. We do one special section called Facades+ every year and it's about 28 pages of projects or profiles of projects and we try to incorporate drawings and more technical components of those kinds of projects. And we do another feature called In Detail where we will go in detail about one particular aspect of a building and why that was hard to accomplish or what was overcome in making something happen that was unique or different. So, you know, you asked the question is it just how we cover editorials? We do try to cover more technical aspects, but I wouldn't say that we are heavy in that regard.
Paul: What's the web address for the newspaper?
Diana: The web address is archpaper.com and we just redesigned that after probably 10 years. So, with that was we have a new website launch that happened in April of this year so that's been very exciting for us. We had a very cumbersome system that was run on two different platforms that took a long time to get stuff updated on even though we put up 8 to 10 new stories a day on our website. So, we're very excited by this new website, feels a little bit more future, looking to the future.
Paul; Yeah, it looks great. I mean, I love…obviously, I'm looking at it right now in fact, but I love the news feed kind of format where you sort of keep going down and finding different stories and whatnot.
Diana: Yeah, good, good. Well, we just implemented that last week because the first iteration was kind of like a…
Paul: Well., good. Good timing, then, huh?
Diana: …it was kind of a stagnant page and then we're like, "Wait, you gotta keep scrolling down."
Paul: That's the problem with web pages, they don't last forever. They're a perishable commodity.
Diana: Yes.
Paul: So, you started this Facades+ Conference and I know that's coming up soon. We'll talk about that a little bit more but…so what drove that decision to get into…why facades as opposed to some other topic, I guess?
Diana: I don't know. I always think the universe delivers things when you need them. You know, you can't run a media company and be successful just doing print. You have to have…there was somebody I read, I don't if it was Politico or somebody that was talking about running a media company. You have to stack a lot of dimes in order to make something a success. So, we always wanted to have a conference series. It's a very good thing to have business-wise and we just never knew what it would be and I came up with a newsletter, I don't know, seven years ago and I really loved this newsletter but we never could find enough funding for it and it was called "Fabricator." So, we'd write a fabrication story every Friday. From that, we met these guys in Texas who run a conference, it was called Tex-Fab. They run a fabrication conference. It's run out of the University of Texas at Arlington, University of Texas, Houston and San Antonio. And we asked those guys if they wanted to do that kind of conference in New York and they had all gone to schools in the East so they were excited to do that. So, we had those guys on board and then I was working with a custom publishing client called The Steel Institute in New York and he said, "Well, I will be one of your top funders if you talk about facade." And I had been running a magazine for him for about five or six years and it was all about facades and so I said, "Sure."
So, we kind of mixed this parametric, geometry, digital fabrication idea with facades and came up with this conference series. So the beginning, the first year, it was actually called Collaboration. During that first year, I ran into Mic Patterson, some of your listeners may know who he is. He was at Enclos for a while, now he's moved on, but Mic Patterson became one of our partners and he said, "There's too much noise in this facade arena. People don't really know what Collaboration means so we need to change the name." So, we changed the name to Facades+ after the first year. And that's when it kind of morphed into what it is now which is a two-day symposium in three cities every year. And then we started…we just thought you just can't get enough facade so we started a breakfast series and that's what we're bringing to Kansas in the middle of September on September 15th. And we do the breakfast series in four or five different cities across the country every year. We are…did D.C this year, Boston, we're going to Kansas City, San Francisco is in December, and then we will be in Dallas mid-October with a two-day conference. We've been doing that for the past five years and it's been very, very successful and people really like it and it's a great way for people to network amongst themselves, engineers, facade consultants, contractors, architects, manufacturers that are supplying materials and products for the facade business. So, sometimes we call it a facade love fest. Sometimes it just…the energy level gets into this at a certain point during the day where everybody's just having such a great time networking and it's running on all cylinders. So, it works really well and we're able to deliver something and pull this whole community together that I think…that's what I give back as a publisher and creator of this event.
Paul: So, it sounds like the first name, although maybe not specific, Collaboration is probably pretty good because it sounds like there's a lot of collaborating that goes on at these events.
Diana: There is, excuse me, and there's…people come back and attend them multiple times. And, you know, we know that people walk away with new work and new relationships and I think that's really great. I mean, I love supporting business on many different levels. So, it makes me happy that those things do happen.
Paul: And, you know, it's…I don't think it's a surprise to anybody that there is so much interest in facades these days. I mean I always say, "You can make or break a project with the success or, I guess, failure of your facade," and I know that it is a really big topic of interest, so.
Diana: It is and I, you know, like I say, I think the universe…you asked why we picked that particular topic and it wasn't a lot of research to say, "Oh, what's the best thing that will be the most successful for us at this time?" It was just…it just kind of all came together and just kept morphing into the next thing and the next thing and we have a great team here of people that I've been working with on programming and event planning and graphic design and, you know, event registration. We do all of that in-house and I think…none of us knew how to do this prior and we've learned how to do it and I think we do it pretty well. So, we keep our attendees and our sponsors happy and they just want to keep coming back.
Paul: What kind of content is offered in a typical conference? Is it, you know, again, it's like the same question as the paper. Is it more design related or technical or combo or what?
Diana: I mean, we always try to have a mix. In Kansas, we always partner with a local architecture or engineering firm in each city because we don't pretend to be experts in this topic. And we try to partner with experts in order to say, "Okay, what's happening in that particular area?" So, for example, in Kansas coming up, we're partnering with Zahner and Helix Architecture and Design. Zahner, you know, is based in Kansas. They have participated in other of our conferences and they were very excited we were bringing this to Kansas. So, the three…the morning series has three topics and then there's three people that usually talk about, those three topics. So, we usually have like nine speakers on the morning series. So, this topic is materials and surfaces, crafting a facade. This is talking in particular about Kansas, redesigning downtown and then parametric facade optimization at all scales. We do try to talk a lot about the, you know, the digital part of designing a facade because I think you can do more complex projects if everything is working from the architect to the engineer to the contractors to the fabricator through digital process. So, we are always trying to, you know, help people understand that.
And then Zahner is giving a workshop in the afternoon at their…onsite at their facility. They'll follow up with and do their own thing so if anybody wants to sign up for that, there's only 20 spots that are available. I don't know when this is airing so I don't know how relevant this is for September, but…
Paul: Oh, you know what, and I don't know when it's airing either. So, actually, September, it's not gonna come till probably after September. So, September 1st today.
Diana: We should talk about Dallas.
Paul: Yes, yes, yes, but you know what, that's good because we're still getting a good overview of how things work, but yeah, let's talk about Dallas because that's probably more into what people would be…
Diana: Let me just go to that one.
Paul: That was the one I actually pulled up on the internet.
Diana: So, the two-day conference sort of runs…works in a different way because it is two days. The first day is a symposium with a whole, we call, Methods and Material Gallery where we have anywhere from 30 to 45 gallery tables of manufacturers. We have two keynotes. Generally, the keynote…the morning keynote is from either Europe or it's from outside of that area because we feel like architects and engineers always hear from the same people if we pull from a local market for that. And we have people that come in from all across the country and even internationally for these two-day events. So, we want to make sure that the keynote's high profile enough that they will really draw and have something interesting to say.
So, we have Marion Weiss from Weiss/Manfredi who will be speaking and they have a project in Dallas that they're currently working on at The Marshall Family Performing Arts Center. So, she'll probably be talking about that. And we have about 20 presentations or speakers throughout the day at most of these events.
Paul: What kind of a…I'm sorry, no, I was going to say…I was going to ask you about who attends, but if you wanna keep going.
Diana: So typically…well, let me just give some highlights of what Dallas is. We always try to bring somebody in from the city to speak to sort set the tone for the day. So, we have Teresa O'Connell for the city of Dallas speaking, as I mentioned, Marion Weiss. We have a Preserving Texas because we always try to talk about retrofits and reuse because that's a big topic and a big opportunity happening across the United States. We have things, you know, about regional facades because these are all regional issues that…you know, that's one thing having them in all these different cities. People have different demands and concerns across the region weather-wise, so we talk about that. Let's see…what else…and we always try to bring in a developer to talk about a developer's point of view in that particular area. We have Jeff DeBruin from Trammel Crow speaking in the afternoon and then we have a cocktail party at the end. We try to have some fun. We have a cocktail party the night before. We have a cocktail party after the event and then the second day, we have workshops. So, we have typically six to eight workshops. Some are hands-on, we call them labs where we will have the leading people doing parametric design, Grasshopper, Rhino, that we don't typically talk of, do BIM or Revit workshops, but things are a little bit more out there and that people can't normally get on a day-in, day-out basis in these areas.
So, we have the lab workshops and then we have dialogue workshops, though, it's a two-day event and we typically get about 100 to 150 people participating in the second day.
Paul: And you have…so obviously architects come and you mentioned you had other professionals and industry participants.
Diana: So, we have typically about 40% to 50% architects attend because we do give away…we do provide AIA/CEU credits. If you come to both days on a two-day, you get 16 credits and we have facade consultants, engineers, contractors, students, academics, manufacturers. So, it's pretty much anybody…developers, anybody that's in the built environment that's particularly interested in the facade of the building will attend this event. And we really work hard to make sure that we have a cross-section of those types of people at each event. That's what I was kind of tied up doing before. I was late on this phone call with the…
Paul: That's okay, [inaudible 00:21:02].
Diana: Reaching out to people in Kansas City, that's, yeah, the audience for a morning event. We usually have about 150 people attend and for the two-day event, anywhere from 350 to 500. New York City is our biggest conference, usually, we get about 500-plus at that event.
Paul: Oh, wow. So what's on the agenda going forward after you get through with these upcoming events? Do you have any other conferences or initiatives that you're working on?
Diana: Well, great you should ask. We do have another conference that we're launching as we speak. It's called Tech+ and it goes back to my love of fabrication and digital and, you know, I think I was maybe 10 or 15 years too late going to college because I really would've liked to have been involved in all the more digital aspect of things that go on now and so we have this conference called Tech+. It's going to be in New York City on May 23rd and it will have virtual reality, drones, let me look up…mobile computing… Do I have my thing in front of me? We just put this all together over the past two weeks. We've been thinking about this one for a while, but we finally got our…altogether and started putting the assets together and we're really excited about that. We had a little preliminary…
Paul: [inaudible 00:22:36].
Diana: I'm sorry.
Paul: I was just going to say it seems like architecturally…the architectural trade keeps up with it better, but the construction side of things, they're not real fast to embrace technology and, you know, I think people fear change and technology is really such a wonderful thing as far as, you know, improvements and efficiency gains and things like that. I saw it in "The Wall Street Journal" this week that the FAA is going to come out with some more reasonable rules for drones and I think they're saying they have like 5,000 applications they're reviewing right now for people who want to use drones for commercial uses, obviously not all construction, but maybe some of them, and they said now they think it's gonna be like 600,000 so just things like that. And I think about facades, you want to inspect a roof, you want to inspect a 20-story building, low-grade waterproofing, all that kind of stuff. It would just make it…if the technology is good, which I know it is, it's gonna make things a lot easier and a lot better.
Diana: Yes, somebody mentioned that.
Paul: There's nothing to be afraid of, yeah.
Diana: They said, you know, imagine that you gotta get a booth or go up and check a facade panel that might be, you know, have some problems and that costs a lot of money. But, if you just send a drone up just to like spin around and take some pictures and see what was going on, then that would cost you hardly anything. So, I think there are a lot of applications that are coming on board and people are curious about them and want to know and we are very interested in all this. So, it's kind of perfect timing. We did a little preview of Iris which is a company based here in New York that's involved in some augmented reality things and HTC which is a headset company at Dwell on Design about two or three months ago. We had a booth, we were sharing space with these people and we think we were the most visited booth at the show. So, we know there's interest and I think doing this in New York City will be a real win for us and we're doing it during a time where there's a lot of trade shows that are happening about design in New York which is called New York Design Week which happens on…that May, that week in May. So, that's our next venture that we're working on.
Paul: Sounds great, sounds really exciting because, you know, the other thing with technology is it's so hard to keep up with it all. I know my company and we try to stay ahead of the curve and as fast as you put something in place, there's something new or different or better that you need to be thinking about. So, it sounds like something, the conference like that would really be helpful for people in the industry that really want to know, you know, where are we and where we're headed. I know, you know, artificial intelligence and robotics and all that stuff. They're, you know, trying to think [inaudible 00:25:45]…lost the term, but the printers, you know, that they're using that can actually make…
Diana: Oh, 3D printing.
Paul: Three-D printing, I'm sorry.
Diana: Right, right, that will be part of this conference, yeah.
Paul: I was going to say inkjet, that's like 15…that's so 1999 which is stuck in my head.
Diana: But hey, I still use a fax. I like my fax and I still use a fax.
Paul: Do you, really?
Diana: Yes, I do.
Paul: I saw one in a museum the other day and I was remembering what that was all about.
Diana: I get it. I catch some hell for that, but I don't care.
Paul: Does it have the curly paper in it?
Diana: No.
Paul: So, what have I forgot to ask you?
Diana: Did you have any other curious questions?
Paul: No, I think we're good. So, thank you very much for being a guest today, Diana, it was really interesting and I know that the listeners of our podcast of building…."Everything Building Envelope" podcast are certainly interested in continuing education, industry trends, things like that. So, and we've given them a way to contact you already and does Facade+ have a website also?
Diana: It does. It's facadesplus.com spelled out. So, there's a website for that.
Paul: P-L-U-S dot com?
Diana: P-L-U-S, yes, yes.
Paul: So, they can find out…
Diana: Yes, and I also…I'm sorry, they can find us there.
Paul: Yeah. What about the conference you have coming up next year for technology?
Diana: That is called techplusexpo.com.
Paul: Okay.
Diana: And I did forget to mention something else that we have been rolling out. We created an app for continuing education learning called CESTRONG so you can download the app on the iTunes store, CESTRONG and take…we have about nine hours of AIA credit for architects and designers on CESTRONG. So, you can look at that, as well.
Paul: Great. I know that's a big issue with professionals is getting all their educational credits sometimes, that sounds like an easy way to do it.
Diana: Exactly.
Paul: So again, thank you very much. It's really interesting and I know hopefully that our listeners will be able to link up and sounds like the conferences are really great and be able to check them out.
Diana: Well, my pleasure, Paul. Thank you for having me on your show and you send me the link. I'll put it on my social media, spread the word.
Paul: Super, super, super.