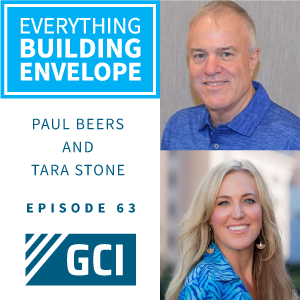 Catastrophe Insurance Claims
(Released on September 3)
Listen to Paul Beers, GCI Consultants CEO & Founder talk with Tara Stone, president of Stone Claims Group, about catastrophe insurance claims, wind storms, and hurricanes amidst this year's current hurricane season. The two experts
About The Everything Building Envelope Podcast: Everything Building Envelope℠ is a dedicated podcast and video forum for understanding the building envelope. Our podcast series discusses current trends and issues that contractors, developers and building owners have to deal with related to pre and post construction. Our series touches on various topics related to water infiltration, litigation and construction methods related to the building envelope.

https://www.everythingbuildingenvelope.com

*** Subscribe to the show and leave us a Review on ITunes!
Paul: Hello, everyone. Welcome to another episode of "Everything Building Envelope" podcast. I'm Paul Beers, CEO and managing member of GCI Consultants, and I'll be the host today. I'm really excited today to have our guest, Tara Stone. Tara is the president of Stone Claims Group. Tara, welcome.
Tara: Hello, Mr. Beers. Pleasure to be here.
Paul: So we've got a really interesting thing to talk about today. We're basically gonna be talking about insurance claims, and hurricanes, and wind storms, and what to do around all that. As we're recording this, we're right in the middle of hurricane season. And I know it's on the forefront of a lot of people's minds. So, Tara, you and I have known each other for a while, we've worked together, and I was thinking about before we did this podcast that we've been there, done that before because you actually had a radio show you were hosting a few years back in Panama City, and I was one of your guests. So now we have a role reversal, don't we?
Tara: You're the boss today.
Paul: Yeah, I like being the boss. So anyway, why don't you tell the audience a little bit about yourself and your business, and then we'll get into the topic?
Tara: Well, thank you. I have the best job in the world because I take money that's well-deserved for my clients from conglomerates that they pay policy premiums for. And I'm very good at it, and I love it. Extremely passionate. My background is I've been in the industry since 2000. I worked for the carriers for the big names that everyone knows, and I spent 15 years doing that. I was one of the top adjusters all over the country. I personally settled over 10,000 to 12,000 wind and hail claims over the course of my career working for the carriers. I worked in every state except 11 that I lived over a month.
And I saw the industry change from 2000 to 2014 when I left working for the carriers. And then in 2014, and I worked to start to represent policyholders. And since then, I merged with a gentleman by the name of Blaine Vermaelen, who had his public adjusting firm since the early '90s. We started Your Private Adjuster, and that merged into Stone Claims Group. We're now over 18 states, and we have, again, the best job in the entire world because we help policyholders nationwide.
Paul: Bravo, bravo. So let me ask you, Tara, what was your perspective working with the carriers as opposed to what it is now working for the policyholders?
Tara: Well, you don't know what you don't know until you know it kind of deal. So I really felt like I was doing the right thing when I was working for the carriers. I went to all of their claims training, I went above and beyond to deliver good customer service. I felt like I wanted to pay everything for my insurers and did the best job that I knew how with the tools that I was given. I must say, though, that it wasn't a matter of what I wanted to do. And things were different back then. We actually had checkbooks with us and wrote checks, and wrote the letters, and had a policy, and looked at it, reviewed it.
I remember sitting around with management when we first started in the early 2000s, looking at policies, trying to figure out ways that we could pay claims. By the time I left in 2014, the culture was very different. It was inside adjusters versus outside adjusters. The outside adjusters had no settlement authority. They did not write checks, they did not write letters, and now I find many of them don't even know what's in their own policy that they're there to do an inspection for.
So as an adjuster working for the insurance company, no matter what I saw, I was bound by what was called operational guidelines. When we would go to every storm, for example, they'd have an induction center and they'd say, "Okay, these are the things that we're paying on the storm. If you pay for a roof, you can pay for a roof, but don't pay for drip edge." Even though the drip edge is 20 years old and installed the same time the roof was and no one in their right mind would not do that, it was whatever the company's operational guideline was based on state specifics.
So I did my best to do a thorough inspection of the property, include everything I could within the operational guidelines. But what I also realized now that I didn't know then was I was not trained as an adjuster to truly identify damage. We were told in a hailstorm, for example, there's no way that hail can damage windows. We were told on hurricanes, well, if it's broken, of course, include it. If it's blown out, include it. Other than that, the wind shouldn't cause damage to the windows. They never gave us training on what to look for or how to look for them.
So all of those claims, the 10,000 to 12,000 claims that I paid for over the course of 14 years working for the insurance companies, even though I probably had one of the records of paying the highest adjuster, I probably paid for, I don't know, less than 100 windows, maybe less than 50 windows, only the ones that were broken. If you walked up and could see that there's no glass in it, then they would let me pay for it or let me include it in the estimate. Other than that, we were not trained in identification of damage and we were not trained in what could happen to the openings, which completely makes sense.
Now, in this use, with all of the education that I've done, and really working with industry professionals, and attending seminars, and seeing these things firsthand when you actually know to look for them, it makes sense if you have a concrete building and wind is blowing up against it, what's gonna get damaged? The concrete or the piece of glass and the metal frame around it? So I think that's the biggest difference that I had in this position is understanding with an open mind of clarity where the damages should be when you look at a building and as it relates to wind damage, and how to prove and document those damages to the carrier.
Paul: So you just pushed one of my hot buttons, as you probably can imagine. What is damage to a window? So, you know, you said that the insurers said, you know, if it's got broken glass or it's blown out of the opening, how could it possibly be damaged? My question for you is, is that what it says in the policies?
Tara: The policy doesn't say anything about windows. The policy simply says they pay for sudden, accidental, direct, physical loss. If it is a covered peril, and it is a physical loss to property, that's all the policy says. It doesn't say it pays for windows, or the windows have to be a certain movement or structure. It doesn't say any specifics about roof. It doesn't say any specifics about having to get bids from contractors. Everyone thinks that in their mind like, "Oh, well, this is just what insurance pays for."
The policy, that's the Bible of the insurance claims process, because they wrote it. It's a contract of adhesion. The insurance company wrote it, you had to accept it. So that means every semicolon, and comma, and period and where it is, and how words are written are so important. But with all those words and all those pages, it doesn't say one thing about window. It says sudden and accidental direct physical damage. So our job is to actually look at it, identify the damage, and then bring in experts to prove that that damage does exist and it's related to the wind or hail storm.
Paul: Yeah, so that leads into my next question, which I think maybe partially you already answered is, what is your process for evaluating a potential loss or a potential claim for damage following a windstorm or a hurricane?
Tara: So we work a lot…our firm does commercial claims. We do a lot of high rises, a lot of warehouses, a lot of multifamily housing. And each building is different depending on the structure and how it's built. But yet again, when I say each building is different, wind, after you've we've worked tens of thousands of cases, makes very similar damage. So we evaluate all the different systems of a building, whether it be roofing, whether it be fenestrations, whether it be plumbing or air conditioning, we initially…our inspector claim each and every inch of it and take a look.
So we're looking for indicators that there could possibly be damage, whether it be indicators from our personal experience, or a lot of what we do is talk to the residents or owners of the building, and see if there has been any change. So once we see damage to the roof or in this case, we're talking about windows, damage to the windows, we would rely on outside experts to come in to verify if what we're seeing is true and correct.
Now, I can tell you after doing it for this long, I think that my eye is trained very, very well to know that that damage is there, but at the same time, my job is to negotiate the claims process. It's not to be an expert in anything. And when you're dealing with complex commercial claims and large losses and high rise, my job as an advocate for the insured is to bring the best experts in the industry to look to tell me if what we're seeing is correct, to fully investigate every inch of the building and then to be able to report back to my client what is truly damaged. My job is to make sure that they are indemnified properly for this loss.
Paul: So when a property owner does have a loss, and a loss is basically that they've been damaged, and that's an insurance term, isn't it, within the policy, loss?
Tara: Correct. That is an accidental direct physical loss.
Paul: Yeah. So when a property owner does have a loss, they can file a claim by themselves and the insurance company will send people out to look at it, and ultimately, tell them yes, no, maybe, whatever. So why do that as opposed to hiring a company like yours?
Tara: So I get asked that a lot, because of course, we all charge fees for what we do, and I charge fees for my services. And they say, "Well, but the insurance company is supposed to pay me what's fair. You know, I'm just going to call them and see what happens." And I think there was a time in my lifetime where there was a possibility that I think that you'd get a fair shake. And the reality of the situation is that the people that come to your house are not bad people. But when I talk to the adjusters that are out in the field now, the level of training isn't even close to what we got 20 years ago. And reality that they're going to actually look at all the damages and report them back, and that someone on the inside sitting 600 miles away that looks at a report that's never probably been on a roof or look damage is going to be able to package that in a way that's fair and correct, it's comical, and it's a shame that it is that way.
But it's just like walking into the courtroom and if you have a traffic ticket, you think, "Oh, well, I can bring my layout and we can show what happened, and they're going to get rid of the ticket." Of course not. Unless you have an advocate, unless you have an attorney, you're not gonna get out of the traffic ticket. Unless you have representation for a complex claim, in my experience, I don't believe you can ever get truly what you're owed.
Paul: So you said that the people that come out to evaluate claim are inexperienced, often aren't properly trained. Aren't those often engineering firms?
Tara: Well, there's two different levels. Many times, especially if windows are involved or in complex claims, they'll send the adjuster, they'll come and just do an initial walkthrough. Then they will send engineers. And they show up on time, they're extremely polite, they wear very nice polos, and they give you a card, and they walk around all of the building and go into all the units, and they might bring little sticks and hold them up against the windows, and rulers, and take a whole bunch of pictures.
And it makes the insured, the property owner feel like, "Wow, the insurance company really cares about me. Look, they're sending someone to fully inspect all these damages." But unfortunately, what I see in my position now is they don't actually have to come to do that inspection. Because the report, in my experience, 99% of the time, says mostly the same thing, that this is just installed wrong, it's maintenance, it's wear and tear, and it's not related to storm damage. Now, if the window is broken, or if it's missing, then they might consider putting that in. But other than that, they're doing an inspection like I was doing 20 years ago when I was untrained by the insurance company to come out and do that inspection.
And, in my experience, have been blinder than I was as an adjuster who was untrained, evaluating losses. And I don't know if there's an alternative agenda. I don't know if that's truly what they believe. What I do know is that there is a ton of expertise that's found out in the field by looking at wind damage and how it affects buildings time after time after time. And it appears that a lot of the individuals, I won't say all, but a lot of individuals that they sent out, they might have been a great engineer designing roadways, and they might have taken a class on windows, but I don't see them having a long-term field expertise to be able to properly identify wind damage to building materials such as windows and roofing.
Paul: So when they do send the adjuster out, let's say you've got water damage, and you've got roof damage, and you've got window and doors, and maybe elevators, mechanical system, things like that, do they have specialists for each thing, or does the same guy look at everything? How does that work, typically from what you see?
Tara: Well, typically, the engineering firm look at the exterior envelope, whether it be the roof and the windows and the interior damages. If elevators are the one thing, they tend to send out specialists to look at. They typically assign a firm, and then that firm is supposed to have the different areas of expertise within that firm. However, it's interesting because I pulled a lot of resumes. And that's the beautiful thing about LinkedIn. It's all right there. So anytime an engineer comes out to one of my clients, I'm certainly pulling their resume off of LinkedIn to see what their background is. And it is extremely interesting to me that the majority of the time, their background has almost nothing to do with storm damage to building envelopes. And if it does, it becomes one-sided where they work for the same type carrier companies over and over again.
So it appears that the deck is a little bit stacked. I mean, I don't know that as a whole. I can tell you my experience in dealing with some of these carrier engineer firms over the last 20 years. I can tell you when I went and I hired an engineer when I worked for the insurance company, never once did that engineer report have damage. And I can tell you that as a fact. And I was the one that was requesting the engineer on behalf of the carrier.
Paul: So do you typically see the same folks over and over again on your claims?
Tara: I do. It's a small industry, even though as large as it is and it's nationwide. Once you get up to this level of claim handling, there is a select group of people that is utilized by the large carriers nationwide. And just like I fly in to help my clients, you know, I just got back from San Antonio, working a large fire on a strip mall right there, and I ran into an adjuster that I know from working claims in Louisiana, you know, four or five years ago. So it's the same people, it's the same experts. Not all the time, but the majority of the time.
But, you know, that goes to show, and this is a little bit off-topic, but how important it is to be an expert and to do things with diplomacy. Like you can yell, and scream, and jump up and down, and say, "Insurance company, you owe me this," and try to pressure and fight, but the only way to really win the battle is through documentation. And that's really where I think that our firm does things differently. We try to do things in a very diplomatic way. But we always beat them with the facts, and the facts are there are legitimate damages of my client that we back up with top industry experts, and then enforce the policy provisions that were written by them.
Paul: So you and I have worked together on some large projects, quite a few actually, over the last X number of years starting with, I think, Matthew, and through Irma, and Michael. And I've seen you and your firm negotiate some pretty comprehensive and, in my view, called good settlements with insurers as opposed to the alternative, which is go to an appraisal hearing or turn it over to the lawyers and go to court and things like that. And I think you were just telling us some of your methods. But so how do you succeed where others often don't in actually getting to a good settlement with an insurance company?
Tara: I think the first thing that we do is we're very, very choosy as a firm about who we will represent. We do a complete analysis of the building, of the damage. We also do an analysis of past claims history, we do analysis of financial, we do analysis of if they had any construction defects or past litigation. Because when we take on a claim, no matter how long it takes, if it takes two months or two years, we're with them until the last nail is driven. We want to make sure that our policyholder's made whole. So that's the first thing we do.
The second thing we do is that I think we truly care about our clients. Anybody can throw things against the wall and see what sticks. But when you have a large building, whether it be a high rise, or a condominium, or office building, or even we've done government and schools, those insurance policies are very, very difficult to get and they're hard to maintain. So filing a claim is very serious. And you should only file a claim and go after things that are 100% legitimate.
So coming from a place of integrity in the very beginning, I think, is the most important thing and the reason why we have a higher settlement rate without litigation because we truly believe in the loss. And we truly believe in our client, like I'm always thinking, "Well, what if this was my building, or this was my mom's building?" And I treat every loss that way, and I can tell you how many nights I go to bed thinking about these things and just churning them over in my head and thinking how new case law and how different developments of new technology can possibly help my client.
The third is that our job is, yes, to document the damage and to find it, but it's also to create leverage. Some of the time, the insurance companies pay for things because they believe that they're damaged. And sometimes they pay for things because they realize it's going to be more expensive if they don't. So we document not only the damages, but we also document the actions of the insurance companies to make sure they're practicing fair claims handling practices.
And then lastly, we bring in the industry experts because at a certain point, the insurance company can say, "Hey, look, you're a public adjuster, there is some incentive for you to find damage," even though that is 100% not true. It doesn't make sense for me to claim something that's not damaged, and I would never do that. But ultimately, I can see that argument can be made. So my job is not to be an expert in everything. My job is to know the top leading industry experts and to bring them to the table. And I think really one of the interesting things and one of the reasons that we use GCI so much, and we use other window fenestration experts as well, but, you know, the ability to find the damage, and write the reports, and make it work for the client. But I've seen you specifically, Paul, have the ability to be able to articulate that report.
And that's the big difference because anyone can write a report, but you have to get the report and the information paid for. It's like you can write an estimate but getting the estimate paid. And when it comes into the heat of battle for our clients, that's really where GCI has shined that they've been able to explain whether it be through expert testimony or litigation, or an umpire and appraisal hearing that this is damaged, why it's damaged, and how it's related to the windstorm itself.
Paul: Yeah. So what I think I hear you saying is that, and to give the insurance companies credit, you know, that if you present the presentation and documentation of the evidence to them and as you say, articulate it in a good way, and they recognize that you've done a good job with it, and there is a chance that you can get them to agree to up to a fair and reasonable settlement.
Tara: Yeah, I mean, less than 20% of our cases go to litigation, it's because we're gonna go the extra mile. I kind of got off on a tangent there, you're right. The difference is, it's always as soon as they volley to you, you have to volley back. And you have to give them more information. You have to keep putting the ball in their court. And sometimes, you come to a dead-end, and they just refuse to do the right thing, and you have no choice but to go to alternative dispute resolution.
But a lot of times, you'll keep going, and they'll say "No, no, no," and all of a sudden, it will get transferred to a different adjuster, or it will get moved to a different team manager. And I think about the differences staying with it and always hitting them with new information, and just being relentless about not giving up. And a lot of these firms say, "Oh, it's Tara, yeah, we know you're not gonna go away. Stone Claims Group, here we go." And I say, "Listen, we don't wanna sue you. We just want what's there and what's owed for the policyholder under the policy." And that's really where I think the difference is and the ability…
I know one of the cases that we talked about, it came to a point where I was having a really hard time getting anyone at the insurance company to listen to what was right. And it was a matter of getting on LinkedIn, finding out who the top executives were, writing personal letters to all of them, and getting and just dialing on the phone until I could get someone to actually listen and go out there and actually have a heart-to-heart conversation. Because at the end of the day, I think people do business with people.
And we have to remember insurance, it is about buildings, and it is about indemnification, but ultimately, it's about people's homes, and people's livelihoods, and people's business. So keeping that at the forefront and reminding the insurance company of that, as you go through the process with all the documentation of experts is, I think how we're able to come to resolution of claims without litigation.
Paul: You have to do the work.
Tara: It is work. Good thing we love it.
Paul: Yeah. So here we are. We're basically…Matthew was four years ago. Irma was three years ago. Michael was two years ago. It's been very busy in the insurance claim space of late. Do you have any insights that you can share with the listeners about all this activity, anything striking?
Tara: Yeah, I think the biggest insight and you have to remember insurance companies spend millions of dollars and, you know, I'm not picking on anyone in particular but good neighbors in good hands, and we can just go on and on with the logos. It's not the one-person insurance company, it's, remember, we're in a culture of marketing. And I think the biggest insight is understanding that because of my background working on those sides that you're a number, you're a risk, and that an insurance claim is a very big deal. And that going into it without representation is the biggest single-handed mistake.
Whether you hire my firm or another professional public adjuster, or an attorney, I would certainly encourage people to seek out expert opinions. Because you don't know what you don't know. And just like I didn't know what I didn't know when I worked for the insurance companies, you could be making hundreds of thousands of dollars or a million-dollar mistake. And if I told you numbers on some of my claims going from $200,000 to $20 million, it sounds almost unreal. But unless you have your building thoroughly inspected by an advocate on your side, I think that you're missing the boat for the policy that you paid for.
Paul: So here we are, as we're recording this, Hurricane Laura is in the gulf and it looks really bad, it's gonna hit somewhere, Texas-Louisiana coastline like tomorrow, I think, as a major hurricane. And you don't want anybody to have to go through that, but it does happen, and there's going to be some folks that are gonna be affected by it and have damage to their properties. So what should they do? What should they do once they, you know, get over the shock of what happened and try to get into the recovery mode?
Tara: Well, the first thing I would say is to start a spreadsheet of every single thing that you do, every action, every temporary repair, every phone, every attempt to call the contractor, every attempt, every tenant complaint, like if you have unit owners or tenants that are making complaints. Because you go years down the line or months down the line and you remember it so bad while it's happening, but you can't remember later. And documentation is everything. That's a key of what we do.
And just like documenting all the trees down and, you know, all the things blown around, all those little details, when we're two years later and everything's cleaned up and grown back and the sun is shining, it's hard to remember those days when the storm was blowing through. And the carriers will make it even difficult to say, "Oh, it wasn't that bad, you know, you didn't really have the damage."
So any kind of documentation, especially documenting your actions on how you're complying with the policy conditions to protect the property from further damage, to document all of the residents' complaints, all the tenants' complaints. That is the biggest way you can help me, your advocate, because I'm not gonna be there the first few days, you know, it's going to take some time for people to get on the ground, it's going to take some time for you to find the right advocate and hire them and go through that process. And you as the building owner are the only person that's gonna be there as the property manager. So documentation of all actions are critical.
And make sure that if you do hire people to represent you, that these are regarded in the industry, like as a minimum, make sure that they're part of industry associations, whether it be NAPIA, the National Association of Public Insurance Adjusters. In Florida, we have FAPIA, the Florida Association of Public Insurance Adjusters. Because these are the associations that advocate for policyholders for legislation nationwide or statewide. They are the people putting the money where their mouth is to make sure policyholders have the rights and they're not being taken by lobbyists. So I think that's one of the first keys, documentation and proper backing check of experts or advocates when they come to represent you.
Paul: Tara, you do a great job. We got to get to you like a Fox News or CNN gig as a spokesman after the storm.
Tara: I can talk for a long time. Like, "Okay, that's what the answer is. Back to Paul."
Paul: You're on point though, really good. So thank you for being our guest today on "Everything Building Envelope" podcast. And I know that you do a great job with social and getting the word out. So can you tell the listeners if they want to find out more about you how they can track you down and see what's going on?
Tara: Yeah, you can always call us at 1-800-892-1116. That's 1-800-892-1116. Or reach us at stoneclaims.com. That's stoneclaims.com.
Paul: And the social? I know you're good with that too.
Tara: Yes, we're on Instagram and Facebook. You can find us under Stone Claims. You also might know us as Your Private Adjuster. We operated under that umbrella for a long time. So if you hear of YPA, Your Private Adjuster, or Stone Claims Group, that's me and my team, we're all over.
Paul: Great. Well, thanks again.
Tara: Thanks for having me, Paul.
Paul: You got it. So, we invite you also to take a look at GCI Consultants' website if you want to find out anything else about us, www.gciconsultants.com. Our phone number is 877-740-9990. Again, 877-740-9990. We're on the various social media channels as well, Facebook, Twitter, Instagram, LinkedIn. So I want to thank everybody once again for listening and I look forward to the next episode of "Everything Building Envelope" podcast. Until then, this is Paul Beers saying so long.